Back to Search
Aoife Morrin
Dr

X125

T: Ext. 6730
E: aoife.morrin@dcu.ie

Dr. Morrin works in the field of electroanalytical device development for environmental and biomedical sensing applications and has published 42 research papers and 3 book chapters in fields ranging from electrochemical biosensing to novel nanomaterials.

She is an academic member of the National Centre for Sensor Research (NCSR). Her expertise is in developing and studying functional (and stimuli-responsive) materials with improved performances due, for example, to nanostructuring, compositing or printing as functional inks. Integration of these materials into microfluidic platforms for electroanalytical applications including bio- and immuno-sensing and chromatography are of interest.

Dr Morrin currently holds a Career Development Award from SFI worth 0.5 million Euro to develop research in the area of skin diagnostics. Moreover, Dr. Morrin has extensive experience in managing projects being Principle Investigator in a number of national and international grants (over €2 million in total) and is involved in research with industry, for example, through the IRC-employment-based postgraduate programme with T.E. laboratories.
Analytical and Materials Chemistry
Electroanalytical devices for environmental and biomedical sensing applications
Stimuli-responsive materials characterisation and application
Electro-responsive architectures in chromatography, sensing and drug delivery
Epidermal sensing


Recent Publication Highlights
Robust epidermal tattoo electrode platform for skin physiology monitoring
DOI:
10.1039/C8AY02678E
(Paper)
Anal. Methods
, 2019, Advance Article
An epidermal tattoo sensing platform comprising silver-based electrodes for direct skin physiology monitoring is reported here. The platform uses an assembly of screen-printed elastomeric silver electrodes interfaced with a porous acrylate-based adhesive layer. The elastomeric nature of the electrodes and the inclusion of the porous adhesive layer were demonstrated to improve adhesion strength, lower stiffness and increase fracture strain of the platform. The porous adhesive layer in particular was shown to improve mechanical properties of the platform without impacting on the electrical measurement of viable tissue resistance (Rvt) by the electrodes. Rvt
values as measured by the wearable tattoo platform were shown to correlate with tissue dielectric constant (TDC) measurements in a participant study. Topical treatment studies were also carried out whereby single frequency impedance responses of the electrodes was shown to relate to the absorption characteristics of the treatment into the skin. Overall, the work contributes to the area of epidermal sensing and electronics whereby approaches to achieve optimum mechanical properties as well as good electrical fidelity in an epidermal sensor platform are critical to developing wearable sensors for taking robust analytical measurements related to skin physiology.

Endogenous and microbial volatile organic compounds in cutaneous health and disease
2018 TrAC Trends in Analytical Chemistry
https://doi.org/10.1016/j.trac.2018.12.012
Human skin is a region of high metabolic activity where a rich variety of biomarkers are secreted from the stratum corneum. The skin is a constant source of
volatile organic compounds
(VOCs) derived from skin glands and resident microbiota. Skin VOCs contain the footprints of cellular activities and thus offer unique insights into the intricate processes of cutaneous physiology. This review examines the growing body of research on skin VOC markers as they relate to skin physiology, whereby variations in skin-intrinsic and microbial metabolic processes give rise to unique volatile profiles. Emerging evidence for volatile biomarkers linked to skin perturbations and skin cancer are examined. Microbial-derived VOCs are also investigated as prospective diagnostic markers, and their potential to shape the composition of the local skin microbiota, and consequently cutaneous health, is considered. Finally, a brief outlook on emerging analytical challenges and opportunities for skin VOC-based research and diagnostics is presented.
Screen-printed Tattoo Sensor towards the Non-invasive Assessment of the Skin Barrier
2017 Electroanalysis. DOI:10.1002/elan.201600572
The development and characterisation of a screen-printed tattoo sensor for the non-invasive assessment of the skin barrier is presented. A screen-printed silver tattoo sensor comprising two concentric circle electrodes was fabricated and applied and characterised initially on a soft tissue mimic. It was shown that the tattoo was capable of tracking changes in water content in the soft tissue mimic using impedance spectroscopy. The tattoo sensors were then applied to porcine and human skins and impedance spectroscopy was used to interrogate the skin at the outer stratum corneum (SC). The SC is a layer of great interest from a dermatological point of view since it plays a critical role in the barrier function of the skin by protecting underlying tissue from infection, dehydration, chemical irritants and mechanical stress. Hydration changes were tracked in the skin using the impedance approach and validated against a tissue dielectric constant (TDC) measurement taken with the MoistureMeterD (MMD, Delfin Technologies). The impedimetric results obtained using the tattoo sensor were modelled into proposed circuit models representative of the systems measured. From this study, the potential of using wearable tattoo electrodes coupled with impedance spectroscopy as a transduction technique, to investigate skin barrier status offers considerable promise towards the monitoring and self-management of skin health.


Inducing macroporosity in hydrogels using hydrogen peroxide as a blowing agent



Mater. Chem. Front.
, 2017, Advance Article DOI: 10.1039/C6QM00052EAbstract:
A new gas blowing method to induce a macroporous structure in pH-responsive hydrogel materials with basic functional groups is reported by a new technique that generates oxygen bubbles via hydrogen peroxide decomposition to template the polymer. This overcomes pH limitations associated with the more traditional approach of using a carbon dioxide gas blowing agent. This new approach is shown to effectively induce a macroporous structure which overcomes the diffusional limitation of bulk hydrogels and, as a result, dramatically increases swelling rates. The hydrogel comprises an aliphatic diamine, Jeffamine®, cross-linked with polyethylene glycol diglycidyl ether (PEGDGE) in a single simple polymerisation step, generating a polymeric network with pendant basic groups. This cross-linking reaction requires protonation of the amine groups, which precludes it from being compatible with the carbon dioxide gas blowing method as this requires a low pH for the decomposition of carbonate. To overcome this, the production of oxygen bubbles in situ via a catalytic decomposition of hydrogen peroxide on silver nanoparticles is used to induce a macroporous structure in the hydrogel. This method was shown to successfully induce a macroporous structure whereby interconnected pores from sub-micron up to 0.5 mm diameter are created within the hydrogel. This new method of inducing macroporosity is described here in terms of the hydrogel polymerisation conditions and the nature of the porosity is characterised in terms of its ability to overcome the diffusional limitations of bulk hydrogels. Finally, rapid, reversible pulsatile pH-sensing is demonstrated using these hydrogels.



Microfluidic paper analytical device for the chromatographic separation of ascorbic acid and dopamine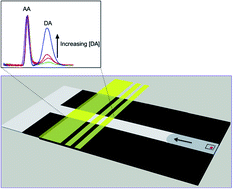 RSC Adv., 2015,5, 93162-93169 DOI: 10.1039/C5RA16272F
Abstract: Cellulose-based filter papers were used as base materials to construct microfluidic paper-based analytical devices (μPADs) coupling a separation channel with electrochemical detection. Channel widths were defined by hydrophobic wax, and gold-sputtering through a mask was used to pattern an electrochemical cell at the end of the channel. The physical properties and surface chemistries of various filter papers were studied with respect to the separation of ascorbic acid (AA) and dopamine (DA). Both porosity as well as the ion-exchange capacity of the filter papers were found to influence the separation. Under the conditions used, Whatman grade P81 strong cation exchange paper based on cellulose phosphate was found to fully retain DA. Detection of both AA and DA was achieved on the other filter papers, however, different behaviours were observed. Whatman 4 could not resolve AA from DA while VWR 413 could achieve baseline separation under the conditions used. Depending on the level of oxidative treatment that they undergo, cellulose papers can have carboxyl groups present on the fibres that can act as sources of ion-exchange sites, thus making these types of papers potentially useful for ion-exchange separations. The ion-exchange capacities of the filter papers were investigated and quantified. It was shown that the ion-exchange properties of the papers evaluated varied dramatically. Furthermore, eluent ionic strength and pH were optimised to achieve a baseline resolution of AA and DA. The limit of detection of DA was 3.41 μM when analysed in the presence of 1 mM AA showing the potential of this μPAD for the detection of catecholamines in biological samples containing high concentrations of AA.



Electro-stimulated release from a reduced graphene oxide composite hydrogel

Journal of Materials of Chemistry B (2015,3, 2530-2537 DOI: 10.1039/C5TB00050E)
Abstract: Electro-stimulated release was established using a novel, electro-conductive hydrogel system comprising Jeffamine polyetheramine and polyethylene glycol diglycidyl ether (PEGDGE) that was composited with reduced graphene oxide (rGO). The swelling response, morphology, mechanical and electrochemical properties of the composite hydrogel were investigated. Enhanced mechanical and electrical properties were observed with increased rGO content. Passive and electro-stimulated release of methyl orange (MO) from these gels was examined. A significant reduction in passive release of the dye was observed by incorporating rGO. Upon electrical stimulation, the release rate and dosage could be tuned through variation of the % w/w rGO, as well as the polarity and amplitude of the applied electric potential. A high level of control and flexibility was achieved demonstrating the applicability of this system for localised drug delivery applications.

Impedimetric transduction of swelling in pH-responsive hydrogels
Analyst (2015 DOI: 10.1039/C4AN02252A)
Abstract: A pH-responsive hydrogel composed of an aliphatic diamine cross-linked with polyethylene glycol diglycidyl ether (PEGDGE) using a single, rapid polymerisation step has been used to detect glucose by entrapping glucose oxidase (GOx) within its cationic network. The swelling response of hydrogel disks on exposure to glucose were optimised through variation of factors including the cross-linking density of the network, GOx loading and the addition of catalase. Hydrogel-modified carbon cloth electrodes were also prepared and characterised using voltammetric and impedimetric techniques. Non-faradaic electrochemical impedance spectroscopy (EIS) and gravimetry were both employed to track the swelling response of the gels quantitatively. The clear potential of utilising impedance to transduce hydrogel swelling was demonstrated where a linear decrease in gel resistance (Rgel) corresponding to the swelling response was observed in the range 1 to 100 μM. A dramatic increase in the limit of detection of six orders of magnitude over the gravimetric measurement was achieved (from 0.33 mM to 0.08 μM). This increased sensitivity, coupled with the textile-based electrode substrate approach opens the potential applicability of this system for monitoring glucose concentration via the skin by sweat or interstitial fluid (ISF).


| | Researcher Name | Project | Role | Funding Body |
| --- | --- | --- | --- | --- |
| | Eoin Murray | IRC Employment based PhD with Tellabs | PhD Student | |
| | Keana de Guzman | SSCIN | PhD Student | |
| | Stephen Lyons | SSCIN | Postdoctoral Student | |
| | Emer Duffy | SSCIN | Postdoctoral Student | |
 
Year
Publication
2013
'Electroanalytical Sensor Technology '
Power, A.C. Morrin, A. (2013) 'Electroanalytical Sensor Technology ' In: Electrochemistry. InTech. [DOI] [Details]
2012
'Inkjet Printed Sensors'
Morrin, A. (2012) 'Inkjet Printed Sensors' In: Inkjet Printing for Micromanufacturing. Germany: Wiley. [Details]
2011
'Nanoparticles in Electrochemical Biosensors'
Morrin, A., Luo, X.L., Killard, A.J., Smyth, M.R. (2011) 'Nanoparticles in Electrochemical Biosensors' In: Encyclopedia of Nanoscience and Nanotechnology. American Scientific Publishers. [Details]
 
Year
Publication
2017
'Screen-printed Tattoo Sensor towards the Non-invasive Assessment of the Skin Barrier'
De Guzman K., Morrin, A (2017) 'Screen-printed Tattoo Sensor towards the Non-invasive Assessment of the Skin Barrier'. Electroanalysis, [DOI] [Details]
2016
'Inducing macroporosity in hydrogels using hydrogen peroxide as a blowing agent'
MacKenna N., Morrin A. (2016) 'Inducing macroporosity in hydrogels using hydrogen peroxide as a blowing agent'. JOURNAL OF MATERIALS CHEMISTRY (ONLINE), [DOI] [Details]
2015
'Microfluidic paper analytical device for the chromatographic separation of ascorbic acid and dopamine'
Murphy, A;Gorey, B;de Guzman, K;Kelly, N;Nesterenko, EP;Morrin, A (2015) 'Microfluidic paper analytical device for the chromatographic separation of ascorbic acid and dopamine'. RSC Advances, 5 :93162-93169 [DOI] [Details]
2015
'Impedimetric transduction of swelling in pH-responsive hydrogels'
Mac Kenna, N;Calvert, P;Morrin, A (2015) 'Impedimetric transduction of swelling in pH-responsive hydrogels'. The Analyst, 140 :3003-3011 [DOI] [Details]
2015
'Electro-stimulated release from a reduced graphene oxide composite hydrogel'
Mac Kenna, N; Calvert, P; Morrin, A; Wallace, GG; Moulton, SE (2015) 'Electro-stimulated release from a reduced graphene oxide composite hydrogel'. Journal of Materials Chemistry B, 3 :2530-2537 [DOI] [Details]
2014
'Wholly printed polypyrrole nanoparticle-based biosensors on flexible substrate'
Weng, B;Morrin, A;Shepherd, R;Crowley, K;Killard, AJ;Innis, PC;Wallace, GG (2014) 'Wholly printed polypyrrole nanoparticle-based biosensors on flexible substrate'. Journal of Materials Chemistry B, 2 :793-799 [DOI] [Details]
2014
'Fabrication of a 3-dimensional nanostructured binary colloidal crystal within a confined channel'
Gorey, B;Smyth, MR;Morrin, A;White, B (2014) 'Fabrication of a 3-dimensional nanostructured binary colloidal crystal within a confined channel'. Journal of Colloid and Interface Science, 436 :211-217 [DOI] [Details]
2014
'Fabrication of homogenous three dimensionally ordered conducting polymer-polystyrene opal structures in microfluidic channels'
Gorey, B;Smyth, MR;White, B;Morrin, A (2014) 'Fabrication of homogenous three dimensionally ordered conducting polymer-polystyrene opal structures in microfluidic channels'. Journal of Materials Chemistry C, 2 :6004-6009 [DOI] [Details]
2014
'Development and characterisation of switchable polyaniline-functionalised flow-through capillary monoliths'
Floris, P;Connolly, D;White, B;Morrin, A (2014) 'Development and characterisation of switchable polyaniline-functionalised flow-through capillary monoliths'. RSC Advances, 4 :43934-43941 [DOI] [Details]
2013
'A sensor probe for the continuous in situ monitoring of ammonia leakage in secondary refrigerant systems'
Subramanian, R;Crowley, K;Morrin, A;Killard, AJ (2013) 'A sensor probe for the continuous in situ monitoring of ammonia leakage in secondary refrigerant systems'. Analytical Methods, 5 :134-140 [DOI] [Details]
2013
'Microfluidic thin-layer flow cell for conducting polymer growth and electroanalysis'
Power, A;White, B;Morrin, A (2013) 'Microfluidic thin-layer flow cell for conducting polymer growth and electroanalysis'. Electrochimica Acta, 104 :236-241 [DOI] [Details]
2012
'Chronocoulometric determination of urea in human serum using an inkjet printed biosensor'
Suman O'Reilly E. Kelly M. Morrin, A. Smyth, M.R. Killard, A.J. (2012) 'Chronocoulometric determination of urea in human serum using an inkjet printed biosensor'. ANALYTICA CHIMICA ACTA, 697 :98-102 [Details]
2012
'Inverse-Opal Conducting Polymer Monoliths in Microfluidic Channels'
Gorey, B;Galineau, J;White, B;Smyth, MR;Morrin, A (2012) 'Inverse-Opal Conducting Polymer Monoliths in Microfluidic Channels'. Electroanalysis, 24 :1318-1323 [DOI] [Details]
2011
'Chronocoulometric determination of urea in human serum using an inkjet printed biosensor'
Suman;O'Reilly, E;Kelly, M;Morrin, A;Smyth, MR;Killard, AJ (2011) 'Chronocoulometric determination of urea in human serum using an inkjet printed biosensor'. Analytica Chimica Acta, 697 :98-102 [DOI] [Details]
2011
'Enhanced electrochemical reduction of hydrogen peroxide at metallic electrodes modified with surfactant and salt'
Gonzalez-Macia, L;Smyth, MR;Morrin, A;Killard, AJ (2011) 'Enhanced electrochemical reduction of hydrogen peroxide at metallic electrodes modified with surfactant and salt'. Electrochimica Acta, 58 :562-570 [DOI] [Details]
2011
'Enhanced electrochemical reduction of hydrogen peroxide on silver paste electrodes modified with surfactant and salt'
Gonzalez-Macia, L;Smyth, MR;Morrin, A;Killard, AJ (2011) 'Enhanced electrochemical reduction of hydrogen peroxide on silver paste electrodes modified with surfactant and salt'. Electrochimica Acta, 56 :4146-4153 [DOI] [Details]
2011
'Inkjet printable polyaniline-gold dispersions'
Lenhart, N;Crowley, K;Killard, AJ;Smyth, MR;Morrin, A (2011) 'Inkjet printable polyaniline-gold dispersions'. Thin Solid Films, 519 :4351-4356 [DOI] [Details]
2011
'Enhanced electrochemical reduction of hydrogen peroxide on silver paste electrodes modified with surfactant and salt'
Gonzalez-Macia, L., Smyth, M.R., Morrin, A., Killard, A.J. (2011) 'Enhanced electrochemical reduction of hydrogen peroxide on silver paste electrodes modified with surfactant and salt'. ELECTROCHIMICA ACTA, 56 :4146-4153 [Details]
2010
'Determination of inorganic mercury using a polyaniline and polyaniline-methylene blue coated screen-printed carbon electrode'
Somerset V.;Leaner J.;Mason R.;Iwuoha E.;Morrin A. (2010) 'Determination of inorganic mercury using a polyaniline and polyaniline-methylene blue coated screen-printed carbon electrode'. International Journal of Environmental Analytical Chemistry, 90 (9):671-685 [DOI] [Details]
2010
'Electrochemical nitrite nanosensor developed with amine- and sulphate-functionalised polystyrene latex beads self-assembled on polyaniline'
Muchindu M.;Waryo T.;Arotiba O.;Kazimierska E.;Morrin A.;Killard A.;Smyth M.;Jahed N.;Kgarebe B.;Baker P.;Iwuoha E. (2010) 'Electrochemical nitrite nanosensor developed with amine- and sulphate-functionalised polystyrene latex beads self-assembled on polyaniline'. Electrochimica Acta, 55 (14):4274-4280 [DOI] [Details]
2010
'Fabrication of polyaniline-based gas sensors using Piezoelectric inkjet and screen printing for the detection of hydrogen sulfide'
Crowley K, Morrin A., Shepherd R.L., Panhuis M.I.H., Wallace G.G., Smyth M.R., Killard A.J. (2010) 'Fabrication of polyaniline-based gas sensors using Piezoelectric inkjet and screen printing for the detection of hydrogen sulfide'. IEEE SENSORS JOURNAL, 10 :1419-1426 [Details]
2010
'Fabrication of polyaniline-based gas sensors using piezoelectric inkjet and screen printing for the detection of hydrogen sulfide'
Crowley K.;Morrin A.;Shepherd R.;In Het Panhuis M.;Wallace G.;Smyth M.;Killard A. (2010) 'Fabrication of polyaniline-based gas sensors using piezoelectric inkjet and screen printing for the detection of hydrogen sulfide'. IEEE Sensors Journal, 10 (9):1419-1426 [DOI] [Details]
2010
'Development and application of a poly(2,2′-dithiodianiline) (PDTDA)-coated screen-printed carbon electrode in inorganic mercury determination'
Somerset V.;Leaner J.;Mason R.;Iwuoha E.;Morrin A. (2010) 'Development and application of a poly(2,2′-dithiodianiline) (PDTDA)-coated screen-printed carbon electrode in inorganic mercury determination'. Electrochimica Acta, 55 (14):4240-4246 [DOI] [Details]
2009
'The fabrication of structurally multiordered polyaniline films and their application in electrochemical sensing and biosensing'
Kazimierska E. Muchindu M. Morrin A. Iwuoha E. Smyth M. R. Killard A.J. (2009) 'The fabrication of structurally multiordered polyaniline films and their application in electrochemical sensing and biosensing'. ELECTROANALYSIS, 21 :595-603 [Details]
2009
'ELECTROANALYSIS'
Kazimierska, E;Muchindu, M;Morrin, A;Iwuoha, E;Smyth, MR;Killard, AJ (2009) 'ELECTROANALYSIS'. Electroanalysis, 21 :595-603 [DOI] [Details]
2008
'The application of conducting polymer nanoparticle electrodes to the sensing of ascorbic acid'
Ambrosi, A., Morrin, A., Smyth, M.R., Killard, A.J. (2008) 'The application of conducting polymer nanoparticle electrodes to the sensing of ascorbic acid'. ANALYTICA CHIMICA ACTA, 609 :37-43 [Details]
2008
'The fabrication and characterization of inkjet-printed polyaniline nanoparticle films'
Morrin, A;Ngamna, O;O'Malley, E;Kent, N;Moulton, SE;Wallace, GG;Smyth, MR;Killard, AJ (2008) 'The fabrication and characterization of inkjet-printed polyaniline nanoparticle films'. Electrochimica Acta, 53 :5092-5099 [DOI] [Details]
2008
'Fabrication of an ammonia gas sensor using inkjet-printed polyaniline nanoparticles'
Crowley, K;Morrin, A;Hernandez, A;O'Malley, E;Whitten, PG;Wallace, GG;Smyth, MR;Killard, AJ (2008) 'Fabrication of an ammonia gas sensor using inkjet-printed polyaniline nanoparticles'. Talanta, 77 :710-717 [DOI] [Details]
2008
'An aqueous ammonia sensor based on an inkjet-printed polyaniline nanoparticle-modified electrode'
Crowley, K., O'Malley, E., Morrin, A., Smyth, M.R., Killard, A.J. (2008) 'An aqueous ammonia sensor based on an inkjet-printed polyaniline nanoparticle-modified electrode'. THE ANALYST (PRINT), 133 :391-399 [Details]
2008
'Fabrication of an ammonia gas sensor using inkjet-printed polyaniline nanoparticles'
Crowley K. Morrin A. Hernandez A. Smyth M.R. Killard A.J. (2008) 'Fabrication of an ammonia gas sensor using inkjet-printed polyaniline nanoparticles'. TALANTA, 77 :710-717 [Details]
2008
'An aqueous ammonia sensor based on an inkjet-printed polyaniline nanoparticle-modified electrode'
Crowley, K;O'Malley, E;Morrin, A;Smyth, MR;Killard, AJ (2008) 'An aqueous ammonia sensor based on an inkjet-printed polyaniline nanoparticle-modified electrode'. The Analyst, 133 :391-399 [DOI] [Details]
2008
'The application of conducting polymer nanoparticle electrodes to the sensing of ascorbic acid'
Ambrosi, A;Morrin, A;Smyth, MR;Killard, AJ (2008) 'The application of conducting polymer nanoparticle electrodes to the sensing of ascorbic acid'. Analytica Chimica Acta, 609 :37-43 [DOI] [Details]
2007
'ELECTROANALYSIS'
Ambrosi, A;Morrin, A;Killard, AJ;Smyth, MR (2007) 'ELECTROANALYSIS'. Electroanalysis, 19 :244-252 [DOI] [Details]
2007
'Nanocauliflowers: A nanostructured polyaniline-modified screen-printed electrode with a self-assembled polystyrene template and its application in an amperometric enzyme biosensor'
Luo, XL;Vidal, GD;Killard, AJ;Morrin, A;Smyth, MR (2007) 'Nanocauliflowers: A nanostructured polyaniline-modified screen-printed electrode with a self-assembled polystyrene template and its application in an amperometric enzyme biosensor'. Electroanalysis, 19 :876-883 [DOI] [Details]
2007
'In situ electropolymerised silica-polyaniline core-shell structures: Electrode modification and enzyme biosensor enhancement'
Luo, XL;Killard, AJ;Morrin, A;Smyth, MR (2007) 'In situ electropolymerised silica-polyaniline core-shell structures: Electrode modification and enzyme biosensor enhancement'. Electrochimica Acta, 52 :1865-1870 [DOI] [Details]
2007
'In-situ electropolymerised silica–polyaniline core–shell structures: electrode modification and enzyme biosensor enhancement'
Luo, X., Killard, A.J., Morrin, A., Smyth, M.R. (2007) 'In-situ electropolymerised silica–polyaniline core–shell structures: electrode modification and enzyme biosensor enhancement'. ELECTROCHIMICA ACTA, 52 :1865-1870 [Details]
2007
'Inkjet Printing: Fabrication Approach for a Chemical Sensor Platform based on Polyaniline Nanoparticles'
Ngamna, O, Morrin, A., Killard, A.J., Smyth, M.R., Wallace, G.G. (2007) 'Inkjet Printing: Fabrication Approach for a Chemical Sensor Platform based on Polyaniline Nanoparticles'. LANGMUIR, 23 :8569-8574 [Details]
2007
'Nanocauliflowers: A nanostructured polyaniline-modified screen-printed electrode with a self-assembled polystyrene template and its application in an amperometric enzyme biosensor'
Luo, X., Vidal, G.D., Killard, A.J., Morrin, A., Smyth, M.R. (2007) 'Nanocauliflowers: A nanostructured polyaniline-modified screen-printed electrode with a self-assembled polystyrene template and its application in an amperometric enzyme biosensor'. ELECTROANALYSIS, 19 :876-883 [Details]
2007
'Electrochemical preparation of distinct polyaniline nanostructures by surface charge control of polystyrene nanoparticle templates'
Luo, XL;Killard, AJ;Morrin, A;Smyth, MR (2007) 'Electrochemical preparation of distinct polyaniline nanostructures by surface charge control of polystyrene nanoparticle templates'. Chemical Communications, :3207-3209 [DOI] [Details]
2006
'Application of nanoparticles in electrochemical sensors and biosensors'
Luo, X.L., Morrin A., Killard, A.J., Smyth, M.R. (2006) 'Application of nanoparticles in electrochemical sensors and biosensors'. ELECTROANALYSIS, 18 :319-326 [Details]
2006
'Development and characterization of nickel-NTA-polyaniline modified electrodes'
Lori, JA;Morrin, A;Killard, AJ;Smyth, MR (2006) 'Development and characterization of nickel-NTA-polyaniline modified electrodes'. Electroanalysis, 18 :77-81 [DOI] [Details]
2006
'Enhancement of a conducting polymer-based biosensor using carbon nanotube-doped polyaniline'
Luo, X., Killard, A.J., Morrin, A., Smyth, M.R. (2006) 'Enhancement of a conducting polymer-based biosensor using carbon nanotube-doped polyaniline'. ANALYTICA CHIMICA ACTA, 575 :39-44 [Details]
2006
'Development and characterisation of Nickel-NTA-polyaniline modified electrodes'
Lori, J.A., Morrin, A., Killard, A.J., Smyth, M.R. (2006) 'Development and characterisation of Nickel-NTA-polyaniline modified electrodes'. ELECTROANALYSIS, 18 :77-81 [Details]
2006
'Enhancement of a conducting polymer-based biosensor using carbon nanotube-doped polyaniline'
Luo, XL;Killard, AJ;Morrin, A;Smyth, MR (2006) 'Enhancement of a conducting polymer-based biosensor using carbon nanotube-doped polyaniline'. Analytica Chimica Acta, 575 :39-44 [DOI] [Details]
2005
'SYNTHETIC METALS'
Ngamna, O;Morrin, A;Moulton, SE;Killard, AJ;Smyth, MR;Wallace, GG (2005) 'SYNTHETIC METALS'. Synthetic Metals, 153 :185-188 [DOI] [Details]
2005
'An amperometric enzyme biosensor fabricated from polyaniline nanoparticles'
Morrin, A;Ngamna, O;Killard, AJ;Moulton, SE;Smyth, MR;Wallace, GG (2005) 'An amperometric enzyme biosensor fabricated from polyaniline nanoparticles'. Electroanalysis, 17 :423-430 [Details]
2005
'An HRP based biosensor using water-soluble sulphonated polyaniline'
Ngamna, O., Morrin, A., Moulten, S.E., Killard, A.J., Smyth, M.R., Wallace, G.G. (2005) 'An HRP based biosensor using water-soluble sulphonated polyaniline'. SYNTHETIC METALS, 153 :185-188 [Details]
2005
'An amperometric polyaniline enzyme biosensor fabricated from nanoparticles'
Morrin, A., Ngamna, O., Killard, A.J., Moulton, S.E., Smyth, M.R., Wallace, G.G. (2005) 'An amperometric polyaniline enzyme biosensor fabricated from nanoparticles'. ELECTROANALYSIS, 17 :423-430 [Details]
2005
'Novel biosensor fabrication methodology based on processable conducting polyaniline nanoparticles'
Morrin, A., Weelber, F., Ngamna, O., Moulton, S.E., Killard, A.J., Wallace, G.G. and Smyth, M.R. (2005) 'Novel biosensor fabrication methodology based on processable conducting polyaniline nanoparticles'. ELECTROCHEMISTRY COMMUNICATIONS, 7 :317-322 [Details]
2005
'Novel biosensor fabrication methodology based on processable conducting polyaniline nanoparticles '
Aoife Morrin , Frank Wilbeer , Orawan Ngamna , Simon E. Moulton , Anthony J. Killard , Gordon G. Wallace , Malcolm R. Smyth (2005) 'Novel biosensor fabrication methodology based on processable conducting polyaniline nanoparticles '. ELECTROCHEMISTRY COMMUNICATIONS, 7 :317-322 [Details]
2005
'An amperometric enzyme biosensor fabricated from polyaniline nanoparticles'
Aoife Morrin , Orawan Ngamna , Anthony J. Killard , Simon E. Moulton , Malcolm R. Smyth , Gordon G. Wallace (2005) 'An amperometric enzyme biosensor fabricated from polyaniline nanoparticles'. ELECTROANALYSIS, 17 :423-430 [Details]
2005
'Novel biosensor fabrication methodology based on processable conducting polyaniline nanoparticles'
Morrin, A;Wilbeer, F;Ngamna, O;Moulton, SE;Killard, AJ;Wallace, GG;Smyth, MR (2005) 'Novel biosensor fabrication methodology based on processable conducting polyaniline nanoparticles'. Electrochemistry Communications, 7 :317-322 [DOI] [Details]
2004
'Organic phase cyclopentadienylnickelthiolate sensor system for electrochemical determination of sulfur dioxide '
Aoife Morrin , Richard M. Moutloali , Anthony J. Killard , Malcolm R. Smyth , James Darkwa , Emmanuel I. Iwuoha (2004) 'Organic phase cyclopentadienylnickelthiolate sensor system for electrochemical determination of sulfur dioxide '. ELECTROANALYSIS, 16 :1944-1948 [Details]
2004
'Electrochemistry and application of a novel monosubstituted squarate electron-transfer mediator in a glucose oxidase-doped poly(phenol) sensor '
Emmanuel I. Iwuoha , Avril R. Williams-Dottin , Lincoln A. Hall , Aoife Morrin , Gretta N. Mathebe , Malcolm R. Smyth , Anthony J. Killard (2004) 'Electrochemistry and application of a novel monosubstituted squarate electron-transfer mediator in a glucose oxidase-doped poly(phenol) sensor '. PURE AND APPLIED CHEMISTRY, 76 :789-799 [Details]
2004
'Organic phase cyclopentadienylnickel thiolate sensor system for electrochemical determination of sulfur dioxide'
Morrin, A., Moutloali, R.M., Killard, A.J., Smyth, M.R., Darkwa, J., Iwuoha, E.I. (2004) 'Organic phase cyclopentadienylnickel thiolate sensor system for electrochemical determination of sulfur dioxide'. ELECTROANALYSIS, 16 :1944-1948 [Details]
2004
'Electrochemistry and scanning electron microscopy of polyaniline/peroxidase-based biosensor'
Mathebe, N.G.R., Morrin, A., Iwuoha, E.I. (2004) 'Electrochemistry and scanning electron microscopy of polyaniline/peroxidase-based biosensor'. TALANTA, 64 :115-120 [Details]
2004
'Electrochemistry and application of novel monosubstituted squarate electron-transfer mediator in glucose oxidase-doped poly(phenol) sensor'
Iwuoha, E.I., Williams-Dottin, A.R., Hall, L.A., Morrin, A., Mathebe, G.N., Smyth, M.R., Killard, A. (2004) 'Electrochemistry and application of novel monosubstituted squarate electron-transfer mediator in glucose oxidase-doped poly(phenol) sensor'. PURE APPL CHEM, 76 :789-799 [Details]
2004
'Electrocatalytic sensor devices: (I) cyclopentadienylnickel(II) thiolato Schiff base monolayer self-assembled on gold'
Morrin, A., Moutloali, R. M., Mathebe, N. G., Killard, A. J., Smyth, M. R., Darkwa, J., Iwuoha, E. I. (2004) 'Electrocatalytic sensor devices: (I) cyclopentadienylnickel(II) thiolato Schiff base monolayer self-assembled on gold'. TALANTA, 64 :30-38 [Details]
2004
'PURE AND APPLIED CHEMISTRY'
Iwuoha, EI;Williams-Dottin, AR;Hall, LA;Morrin, A;Mathebe, GN;Smyth, MR;Killard, A (2004) 'PURE AND APPLIED CHEMISTRY'. Pure and Applied Chemistry, 76 :789-799 [Details]
2004
'Organic phase cyclopentadienylnickelthiolate sensor system for electrochemical determination of sulfur dioxide'
Morrin, A;Moutloali, RM;Killard, AJ;Smyth, MR;Darkwa, J;Iwuoha, EI (2004) 'Organic phase cyclopentadienylnickelthiolate sensor system for electrochemical determination of sulfur dioxide'. Electroanalysis, 16 :1944-1948 [DOI] [Details]
2003
'Electrochemical characterization of commercial and home-made screen-printed carbon electrodes'
Morrin, A;Killard, AJ;Smyth, MR (2003) 'Electrochemical characterization of commercial and home-made screen-printed carbon electrodes'. Analytical Letters, 36 :2021-2039 [DOI] [Details]
2003
'Electrochemical characterisation of commercial and home-made screen-printed carbon electrodes'
Morrin, A., Killard, A.J., and Smyth, M.R. (2003) 'Electrochemical characterisation of commercial and home-made screen-printed carbon electrodes'. ANALYTICAL LETTERS, 36 :2021-2039 [Details]
2003
'Characterisation of horseradish peroxidase immobilisation on an electrochemical biosensor by colorimetric and amperometric techniques'
Morrin, A, Guzman, A., Killard, A.J., Pingarron, J.M. and Smyth, M.R. (2003) 'Characterisation of horseradish peroxidase immobilisation on an electrochemical biosensor by colorimetric and amperometric techniques'. BIOSENSORS & BIOELECTRONICS, 18 :715-720 [Details]
Year
Publication
2016
Analytical Research Forum,
Lyons, S., Brougham, B., Morrin, A. (2016) Characterisation of superparamagnetic nanoparticle motion through an extracellular matrix mimic for application in diagnostics and therapeutics. [], Analytical Research Forum, Burlington House, London [Details]
2016
Skin Physiology International Meeting,
Duffy, E., Jacobs, M., Kirby, B., Morrin, A. (2016) Probing skin physiology through the analysis of volatile metabolites towards non-­‐invasive dermatological screening and diagnostics. [], Skin Physiology International Meeting, Vichy, France [Details]
2016
International Conference on Chromatography,
Duffy, E., Jacobs, M., Kirby, B., Morrin, A. (2016) Non-invasive profiling of human skin volatiles for chronic skin conditions. [], International Conference on Chromatography, Cork, Ireland [Details]
2016
16th International Conference on Electroanalysis,
De Guzman K., Morrin, A (2016) Smart tattoo for monitoring skin hydration using AC impedance. [], 16th International Conference on Electroanalysis, Bath, UK [Details]
2016
Wearable Smart Sensors and Technologies,
Duffy, E., Jacobs, M., Kirby, B., Morrin, A. (2016) Human Skin Volatile Profiling for Point of Care Applications. [], Wearable Smart Sensors and Technologies, Burlington House, London [Details]
2016
5th Congress of WUWHS,
Duffy, E., Jacobs, M., Kirby, B., Morrin, A. (2016) Minimally invasive analytical tools for monitoring skin hydration and volatile skin emissions. [], 5th Congress of WUWHS, Florence, Italy [Details]
2016
16th International Conference on Electroanalysis,
Morrin, A. (2016) Towards Epidermal Sensing. [], 16th International Conference on Electroanalysis, Bath, UK [Details]
2016
8th Conference on Analytical Science Ireland,
Duffy, E., Jacobs, M., Morrin, A (2016) Analysing the human skin volatile signature. [], 8th Conference on Analytical Science Ireland, Dublin, Ireland [Details]
2016
8th Conference on Analytical Science Ireland,
de Guzman K., Morrin, A (2016) Monitoring Hydration Changes of a Hydrogel using a Screen-Printed Tattoo Sensor. [], 8th Conference on Analytical Science Ireland, Dublin, Ireland [Details]
2016
Wearable Smart Sensors and Technologies,
Morrin, A. (2016) Towards Epidermal Sensing. [], Wearable Smart Sensors and Technologies, Burlington House, London [Details]
2012
Electrochem 2012: Electrochemical Horizons,
Morrin, A. (2012) Conducting Polymers In microChannels For Electroanalytical Applications. [Conference Organising Committee Member], Electrochem 2012: Electrochemical Horizons, Dublin , 02-SEP-12 - 04-SEP-12 [Details]
2012
14th International Conference on Electroanalysis, ESEAC 2012,
Gorey, B., White, B., Smyth, M.R., Morrin, A. (2012) Inverse-opal conducting polymer monoliths in micro-fluidic channels. [], 14th International Conference on Electroanalysis, ESEAC 2012, Portorož, Slovenia , 03-JUN-12 - 07-JUN-12 [Details]
2012
2nd International Symposium on Functional Nanomaterials 2012,
Morrin, A. (2012) Conducting Polymers In microChannels For Electroanalytical Applications. [Conference Organising Committee Member], 2nd International Symposium on Functional Nanomaterials 2012, Dublin , 06-SEP-12 - 07-SEP-12 [Details]
2012
Smart Surfaces 2012,
McKenna, N. White, B. Smyth, M.R. Morrin, A. (2012) Development Of A Rigid Conducting Polymer:Epoxy Composite For Use As A Robust Sensor Transducer. [], Smart Surfaces 2012, Dublin , 06-MAR-12 - 09-MAR-12 [Details]
2011
Eirelec 2011, Electrochemistry: The Future?,
Gorey, G., Newman, A., White, B., Morrin, A., Smyth M.R. (2011) Development of 3-dimensional nanostructured unimodal and bimodal polystyrene templates. [], Eirelec 2011, Electrochemistry: The Future?, Adare, Linerick, Ireland , 16-MAY-11 - 18-MAY-11 [Details]
2011
Separation Science Europe,,
Gorey, B.; Morrin, A.; Smyth, M.R.; White, B.; Morrin, A.. (2011) Utilising 3D binary colloidal crystals to customise macropore and mesopore morphology and porosity. [], Separation Science Europe,, London , 10-OCT-11 - 11-OCT-11 [Details]
2011
Printed Functional Materials (PFM) 2011,
Crowley, K., Morrin, A., Smith, P., Killard, A.J., Smyth, M. R. (2011) Fabrication of inkjet printed inter-digitated electrodes and arrays for gas detection. [], Printed Functional Materials (PFM) 2011, The Helix, Dublin City University, Dublin, Ireland , 12-SEP-11 - 12-SEP-11 [Details]
2011
6th Conference on Analytical Sciences (CASi),
Gorey, B., White, B., Morrin, A. Smyth, M.R. (2011) Production of polystyrene spheres for use as a templating material for polyaniline monolith structures. [], 6th Conference on Analytical Sciences (CASi), The Helix, Dublin City University, Dublin, Ireland , 21-FEB-11 - 22-FEB-11 [Details]
2011
Eirelec 2011,
Morrin, A. (2011) Micro- and Nano-Templated Conducting Polymer Monoliths and Films For Lab-On-A-Chip Applications. [Conference Organising Committee Member], Eirelec 2011, Adare, Linerick, Ireland , 16-MAY-11 - 18-MAY-11 [Details]
2011
Printed Functional Materials (PFM) 2011,
Weng, B., Morrin, A., Shephard, R., Crowley, K., Killard, A.J., Wallace G.G. (2011) Wholly printed polypyrrole-based biosensor on flexible substrate. [], Printed Functional Materials (PFM) 2011, The Helix, Dublin City University, Dublin, Ireland , 12-SEP-11 - 12-SEP-11 [Details]
2011
6th Conference on Analytical Sciences (CASi),
Hayes, H., Crowley, K., Killard, A.J., Smyth, M.R., Morrin, A. (2011) Polyaniline-Silver Hybrid Materials For Ink-Jet Printing. 6th Conference on Analytical Sciences (CASi), The Helix, Dublin City University, Dublin, Ireland , 21-FEB-11 - 22-FEB-11 [Details]
2011
75th Macromolecules Conference,
Morrin, A. (2011) Micro-templated Conducting Polymers On-Chip. [Conference Organising Committee Member], 75th Macromolecules Conference, Prague , 10-JUL-11 - 14-JUL-11 [Details]
2011
6th Conference on Analytical Sciences (CASi),
Crowley, K., Morrin, A., M.R. Smyth, Killard, A.J. (2011) Sensors and electrochemical devices based on printed Nafion films. [], 6th Conference on Analytical Sciences (CASi), The Helix, Dublin City University, Dublin, Ireland , 21-FEB-11 - 22-FEB-11 [Details]
2011
Printed Functional Materials (PFM) 2011,
Crowley, K., Morrin, A., Killard, A.J. (2011) Printed sensor devices: From materials and fabrication to commercial application. [], Printed Functional Materials (PFM) 2011, The Helix, Dublin City University, Dublin, Ireland , 12-SEP-11 - 12-SEP-11 [Details]
2011
Analytical Research Forum (ARF) 2011,
Blignaut, I., Morrin, A., Regan, F. (2011) Rigid conducting composites as resistance sensors for the detection of petroleum leaks in pipelines. [], Analytical Research Forum (ARF) 2011, Manchester, UK , 25-JUL-11 - 28-JUL-11 [Details]
2010
Macro2010, IUPAC World Polymer Congress: Polymer Science in the Service of Society,
Galineau, J., White, B., Smyth, M.R. Morrin, A. (2010) Electroactive monolith chips based on nanostructured polyaniline. [], Macro2010, IUPAC World Polymer Congress: Polymer Science in the Service of Society, SECC, Glasgow , 11-JUL-10 - 16-JUL-10 [Details]
2009
International Symposium on Functional Nanomaterials,,
Galineau, J., White, B., Morrin, A., Smyth, M.R. (2009) Ordered Polyaniline Honeycomb Structures Grown in Microfluidic Channels as Stationary Phases for Chip Chromatography. [], International Symposium on Functional Nanomaterials,, Dublin City University, Ireland , 10-SEP-09 - 11-SEP-09 [Details]
2009
23rd International Symposium on Microscale Bioseparations,
Morrin, A., White, B., Galineau, J., Smyth, M.R. (2009) Colloidal Crystals: First Step Towards Optical Chromatography in Microfluidic Devices. [], 23rd International Symposium on Microscale Bioseparations, Boston , 01-FEB-09 - 05-FEB-09 [Details]
2009
42nd IUPAC Congress Chemistry Solutions,
Gonzalez-Macia, L., Morrin, A., Smyth, M. R., Killard A. J. (2009) Study of Hydrogen Peroxide Decomposition and Reduction on Metallic Surfaces. [], 42nd IUPAC Congress Chemistry Solutions, SECC, Glasgow , 02-AUG-09 - 07-AUG-09 [Details]
2009
34th International Symposium on High-Performance Liquid Phase Separations and Related Techniques, HPLC 2009,
Galineau, J. (Speaker), White, B., Morrin, A., Smyth, M.R. (2009) EMµ: The Next Generation of Separation Science. [Conference Organising Committee Member], 34th International Symposium on High-Performance Liquid Phase Separations and Related Techniques, HPLC 2009, Dresden, Germany , 28-JUN-09 - 02-JUL-09 [Details]
2009
International Symposium on Functional Nanomaterials,
Morrin, A., Crowley, K., Twamley, B., Hayes, H., Lenhart, N., Killard A. J. (2009) Inkjet Printable Organic-Inorganic Hybrids Based On Polyaniline. [], International Symposium on Functional Nanomaterials, Dublin City University, Ireland , 10-SEP-09 - 11-SEP-09 [Details]
2009
21st International Ion Chromatography Symposium,
Galineau, J., White, B., Morrin, A., Smyth, M.R. (2009) EMµ: The Next Generation of Separation Science. [], 21st International Ion Chromatography Symposium, Dublin, Ireland , 21-SEP-09 - 24-SEP-09 [Details]
2008
5th Biennial Conference of Analytical Sciences ,
Karagianni, K., Morrin, A., Smyth, M.R., Killard, A. J. (2008) Stabilisation of water-soluble and nanoparticulate polyanilines on carbon electrode. [], 5th Biennial Conference of Analytical Sciences , Waterford Institute of Technology, Waterford, Ireland , 07-MAY-08 - 09-MAY-08 [Details]
2008
Printed Functional Materials,
Morrin, A., Crowley, K., Ngamna, O., O'Malley, E., Killard, A. J., Wallace, G. G., Smyth, M. R. (2008) Inkjet Printable Ammonia-Selective Platforms For Gas- & Bio-Sensing. Printed Functional Materials, National Centre for Sensor Research, Dublin City University , 26-MAY-08 - 26-MAY-08 [Details]
2008
Printed Functional Materials,
Winther-Jensen, O., Morrin, A., Masdarolomoor, F., Wallace, G. G. (2008) Inkjet Printable Polyaniline-Poly(2-methoxyaniline-5-sulphonic acid) Nanocomposites For Electrochromic Devices. [], Printed Functional Materials, Dublin City University, Ireland , 26-MAY-08 - 27-MAY-08 [Details]
2008
5th Biennial Conference of Analytical Sciences,
Galineau, J., Nie, F., White, B., Morrin, A., Killard, A.J., Smyth, M.R. (2008) Colloidal crystals: First step toward optical chromatography in microfluidic devices . [], 5th Biennial Conference of Analytical Sciences, Waterford Institute of Technology, Waterford, Ireland , 07-MAY-08 - 09-MAY-08 [Details]
2008
The 59th Annual Meeting of the International Society of Electrochemistry,
Gonzalez-Macia, L., Morrin, A., Smyth, M. R., Killard A. J. (2008) Polyaniline Nanoparticles for Sensing Applications. [], The 59th Annual Meeting of the International Society of Electrochemistry, University of Seville, Seville, Spain , 07-SEP-08 - 12-SEP-08 [Details]
2008
Printed Functional Materials,
Karagianni, K., Morrin, A., Smyth, M. R., Killard, A. J. (2008) Stabilisation Of Printable Water-Soluble Polyaniline On Carbon Electrodes. [], Printed Functional Materials, National Centre for Sensor Research, Dublin City University , 26-MAY-08 - 27-MAY-08 [Details]
2008
Printed Functional Materials ,
Kazimierska, E., Luo, X., Muchindu, M., Morrin, A., Smyth, M. R., Killard, A. J. (2008) Functional Structures of Polyaniline Materials for Sensor Applications. [], Printed Functional Materials , National Centre for Sensor Research, Dublin City University , 26-MAY-08 - 26-MAY-08 [Details]
2008
Printed Functional Materials,
Crowley, K., Morrin, A., Killard, A. J., Smyth, M. R. (2008) Inkjet Printing Of Conducting Polymers On Patterned Electrode Substrates – Sensor Fabrication Using Inkjet Printing. [], Printed Functional Materials, National Centre for Sensor Research, Dublin City University , 26-MAY-08 - 27-MAY-08 [Details]
2007
Questor-PERF Meeting,
Morrin, A. (2007) Biosensors: In-situ Monitoring Tool for the Petrochemical industry. [], Questor-PERF Meeting, The Questor Centre, Queens University, Belfast , 12-JUL-07 - 13-JUL-07 [Details]
2007
Workshop: Ink Jet Printing Functional Materials,
Morrin, A. (2007) Inkjet Printing as a Tool for the Fabrication of Conducting Polymer-Based Sensors & Biosensors. [], Workshop: Ink Jet Printing Functional Materials, University of Wollongong, Australia , 06-DEC-07 - 07-DEC-07 [Details]
2007
Innovations in Inkjet,
Crowley, K., Morrin, A., Ngamna, O., O'Malley, E., Killard, A.J., Wallace, G.G., Smyth, M.R. (2007) Inkjet Printable Ammonia-Selective Platforms For Gas- & Bio-sensing. [], Innovations in Inkjet, University of Eindhoven, Holland , 28-JUN-07 - 29-JUN-07 [Details]
2006
International Society of Electrochemistry, 57th Annual Meeting,
Luo, X., Morrin, A., Killard, A.J., and Smyth, M.R. (2006) Microstructuring of polyaniline electrode films using silica nanoparticles. [], International Society of Electrochemistry, 57th Annual Meeting, Edinburgh, Scotland , 27-AUG-06 - 01-SEP-06 [Details]
2006
International Society of Electrochemistry, ISE Spring Meeting,
Ambrosi, A., Luo, X., Morrin, A., Killard, A.J., and Smyth, M.R. (2006) Performance Enhancement of Electrochemical Biosensors by Exploitation of Nanoparticles. International Society of Electrochemistry, ISE Spring Meeting, Singapore , 17-APR-06 - 20-APR-06 [Details]
2006
ESEAC 2006, Eleventh International Conference on Electroanalysis,
Luo, X., Killard, A.J., Morrin, A., and Smyth, M.R. (2006) Enhancement of a conducting polymer-based biosensor using carbon nanotube-doped polyaniline. [], ESEAC 2006, Eleventh International Conference on Electroanalysis, Bordeaux, France , 11-JUN-06 - 15-JUN-06 [Details]
2006
ESEAC 2006, Eleventh International Conference on Electroanalysis,
Morrin A. (2006) Nanomaterial And Nanostructuring Approaches For The Fabrication Of Conducting Polymer-Based Biosensors. [Conference Organising Committee Member], ESEAC 2006, Eleventh International Conference on Electroanalysis, Bordeaux, France , 11-JUN-06 - 15-JUN-06 [Details]
2006
ESEAC 2006, Eleventh International Conference on Electroanalysis,
Morrin, A., Luo, X., Ngamna, O., McMorrow, C., O'Malley, E., Moulton, S., Killard, A.J., Wallace, G.G., and Smyth, M.R. (2006) Nanomaterial and nanostructuring approaches for the fabrication of conducting polymer-based biosensors. [], ESEAC 2006, Eleventh International Conference on Electroanalysis, Bordeaux, France , 11-JUN-06 - 15-JUN-06 [Details]
2005
57th Irish Universities Chemistry Research Colloquium,
Ambrosi, A., Morrin, A., Killard, A.J., Smyth, M.R. (2005) Characterisation of an Amperometric Immunosensor Surface by Scanning Electron Microscopy. [], 57th Irish Universities Chemistry Research Colloquium, National University of Ireland (NUI), Maynooth , 22-JUN-05 - 24-JUN-05 [Details]
2005
The Wollongong Workshop on Nanostructured Materials,
Morrin, A., Ngamna, O., Wallace, G.G., Killard, A.J., and Smyth, M.R. (2005) Enzyme biosensors based on nanoparticulate conducting polyaniline. The Wollongong Workshop on Nanostructured Materials, University of Wollongong, New South Wales, Australia , 03-FEB-05 - 04-FEB-05 [Details]
2004
The International Conference on Synthetic Metals (ICSM) 2004. The Role and Impact of Nanoscience and Nanotechnologies,
Ngamna, O., Morrin, A., Grennan, K., Moulton, S.E., Killard, A.J., Smyth, M.R., Wallace, G.G. (2004) Application of water-soluble sulphonated polyaniline as a novel biosensor. [], The International Conference on Synthetic Metals (ICSM) 2004. The Role and Impact of Nanoscience and Nanotechnologies, Wollongong, New South Wales, Australia , 28-JUN-04 - 02-JUL-04 [Details]
2004
3rd Biennial Conference on Analytical Sciences in Ireland,
Morrin A. (2004) Amperometric biosensors fabricated from polyaniline nanoparticles. [Conference Organising Committee Member], 3rd Biennial Conference on Analytical Sciences in Ireland, University College Cork , 09-SEP-04 - 10-SEP-04 [Details]
2004
Interact 2004,
Ngamna, O., Morrin, A., Grennan, K., Moulton, S. E., Killard, A.J., Smyth, M.R., and Wallace, G.G. (2004) Application of conducting polyaniline nanoparticles in the fabrication of a novel biosensor. [], Interact 2004, Gold Coast, Queensland, Australia , 04-JUL-04 - 08-JUL-04 [Details]
2004
The International Conference on Synthetic Metals (ICSM) 2004. The Role and Impact of Nanoscience and Nanotechnologies,
Ngamna O., Morrin, A., Wallace, G., Killard, A.J., and Smyth, M.R. (2004) Application of nanoparticulate conducting polyaniline in nanofilm biosensor technology. [], The International Conference on Synthetic Metals (ICSM) 2004. The Role and Impact of Nanoscience and Nanotechnologies, Wollongong, New South Wales, Australia , 28-JUN-04 - 02-JUL-04 [Details]
2004
Interact 2004,
Ngamna, O., Morrin, A., Grennan, K., Moulton, S. E., Killard, A.J., Smyth, M.R., and Wallace, G.G. (2004) Water-soluble sulphonated polyaniline: a novel conducting polymer platform for biosensors. [], Interact 2004, Gold Coast, Queensland, Australia , 04-JUL-04 - 08-JUL-04 [Details]
2004
ESEAC 2004 Tenth International Conference on Electroanalysis,
Morrin, A., Ngamna, O., Lori, J., Wallace, G., Killard, A.J., and Smyth, M.R. (2004) Application of nanoparticulate conducting polyaniline in nanofilm biosensor technology. [], ESEAC 2004 Tenth International Conference on Electroanalysis, NUI Galway , 06-JUN-04 - 10-JUN-04 [Details]
2003
Inaugural Conference of the Southern and Eastern Africa Network of Analytical Chemists,
Morrin, A., Moutloali, R.M., Revaprasadu, N., Smyth, M.R., Darkwa, J., Iwuoha, E.I. (2003) High performance electro-catalytic nanosensor devices: (I) Cyclopentadienylnickel(II) thiolato Schiff base monolayer self-assembled on gold . [], Inaugural Conference of the Southern and Eastern Africa Network of Analytical Chemists, Gaborone, Botswana , 07-JUL-03 - 10-JUL-03 [Details]
2002
Second Analytical Conference on Analytical Sciences in Ireland,
Morrin, A., Killard, A.J. and Smyth, M.R. (2002) Development of a multichannel immunosensor for the analysis of menstrual hormones in urine. [], Second Analytical Conference on Analytical Sciences in Ireland, Institute of Technology Tallaght, Dublin, Ireland , 04-APR-02 - 05-APR-02 [Details]
2002
Biosensors 2002,
Morrin, A, Guzman, A., Killard, A.J., Pingarron, J.M. and Smyth, M.R. (2002) Elucidation of the mode of action of a conductive polymer-based electrochemical immunosensor. [], Biosensors 2002, Kyoto, Japan , 15-MAY-02 - 17-MAY-02 [Details]
2001
Analytical Research Forum Incorporating Research and Development Topics,
Morrin, A., Smyth, M.R. and Killard, A.J. (2001) Immunoelectrochemical methods of hormone analysis. Analytical Research Forum Incorporating Research and Development Topics, University of East Anglia, Norwich, UK , 16-JUL-01 - 18-JUL-01 [Details]